The events
ACTIVE BREAKFAST
19 June 2022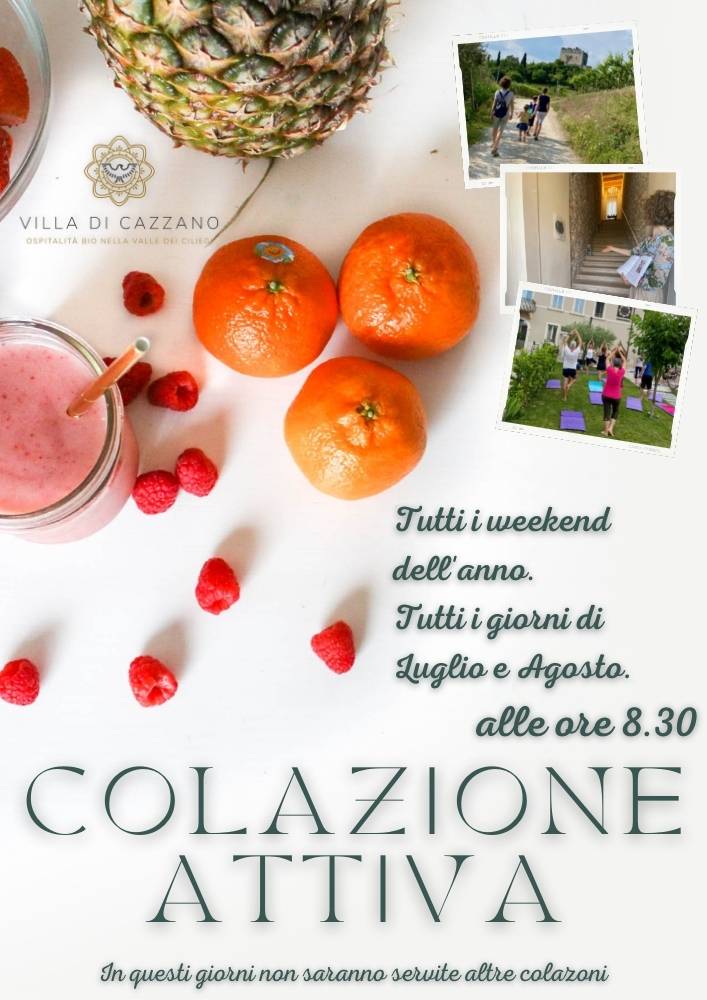 Waking up in Villa di Cazzano is a unique experience.
For the entire months of July and August and on weekends throughout the year, having breakfast won't be just simply consuming food seated at a table, but will be an experience in which you, like a guest, are the protagonist together with the environment that surrounds us.
Every morning at 8.30am, an activity of about 45 minutes is proposed to welcome the day that arises, in harmony and beauty. The activities are led directly by the owners of the Villa and are suitable for everyone.
Some of the activities are:
–> Walk on the hills.
Easy walking excursion of about an hour on the hills around the villa accompanied by the history of Val Tramigna; a way to tone up the body and get to know the territory that hosts you.
–> Emotional and energetic activation.
In the garden of the Villa you will be guided in a deep listening of body and emotions, through simple movements, breaths and music.
–> La Villa: history, anecdotes and secrets.
A journey into the memory of the mansion, to discover the anecdotes of the families who lived here and be fascinated by the history that has been written in this place.
–> The spontaneous plants of the area.
The Val Tramigna, where the Villa is located, is important for its wide biodiversity. Let's get to know some spontaneous plants around the Villa and their properties.
All experiences end in the garden or inside the Villa with herbal tea, express coffee, fruit juice, cake and biscuits, based on organic, local and artisanal ingredients, included in the cost of the activity.
Our purpose is that all guests of the Villa can take advantage of this proposal, so the requested contribution is little more than the cost of a simple breakfast: 17 euros for each adult and must be confirmed before the previous evening. We also would facilitate families: children up to 18 years old, accompanied by their parents, will pay only 5 euros.
Allow yourself to start the day by dedicating yourself to the well-being of body and spirit, after a regenerating night spent in the ancient and refined rooms of the Villa. We are waiting for you.
Just in case of rain, the possible activities will be carried out inside the Villa.